Program Features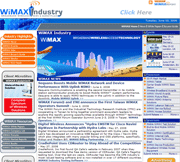 Package includes:
Banner in rotating position on our home page which links to your micro-site inside the publication. Banners are 120x60px, animated GIFs. You can supply your own or our designers will build it at no added cost.

Press release positioning on our home page

White paper postings on our site

Dedicated Micro-site with 5-10 product/service pages. Each page is keyword targeted on major search engines by our on-staff search engineers. Inquiries from local responders on your pages are emailed directly to you in real-time, as they are generated.

Event Promotion on our site, in the current events section and in our Newsletter.

Newsletter listing of your white papers, press releases and industry news.

Inclusion in our Buyers Guide (line listing) and trade show promotions.

Qualified leads delivered in real time to your sales organization and batch leads sent weekly from our showcase sections.
Program Pricing
Quarterly Prepaid - Click here for Information

Annual Prepaid - Click here for Information




Contact:
Mimi Mitchell, Partner Mgr. Ask Mimi A Question
WiMAX Industry
+ 716-206-8460
US:888-955-4816 ext. 89
mmitchell@wimax-industry.com