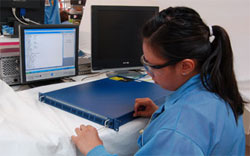 Vecima Networks Corporate Profile
Vecima Networks (TSX:VCM) designs and manufactures products for fixed and nomadic wireless broadband content delivery from 600 MHz to 5.8 GHz. Applications include data access, voice over IP, cellular backhaul, video backhaul, smart grid/SCADA , smart meters/AMI, site monitoring, public safety and security/video surveillance. Vecima's wireless architecture is composed of high capacity base stations, subscriber stations and sophisticated network management tools that have been deployed around the world.
Vecima prides itself on keeping constant communication with all of our customers, gathering information on their specific instances and networks. Vecima can create specifically tailored solutions for customers who have different requirements.
Broadband Wireless
Vecima designs and manufactures products for wireless broadband content delivery. Products are available for the following wireless network architectures:
VistaMAX®
Wireless utilizing WiMAX / IEEE 802.16-2004
Base station and subscriber station transceivers available for the 1.9 GHz, 3.5 GHz, 3.65 GHz (USA) and 5 GHz bands
BWIN™
Wireless utilizing the powerful DOCSIS® platform
Equipment available for the UHF, 2.5 GHz, 3.5 GHz, 4.9 GHz or 5.8 GHz bands
WaveRider®
Wireless utilizing OFDM with Adaptive Modulation
Equipment available for the 900 MHz, 4.9 GHz and 5.8 GHz License Free bands