Industry Highlights

WiMAX

White Papers

WiMAX Company List
WiMAX Trade Shows
WiMAX Books
WiMAX Buyer's Guide
WiMAX Forums
WiMAX Stocks
WiMAX Market Reports
Proxim Wi-Fi Mesh Products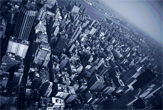 Proxim Wireless Wi-Fi® Mesh Networks: Meeting the Urgent, Real-World Needs of Municipalities and Service Providers Worldwide

As total broadband access subscriber rates and usage rise by leaps and bounds, service providers and municipalities are facing a daunting challenge: addressing customer demands for anywhere, anytime high-speed broadband access at the lowest possible cost.

Wi-Fi mesh networks from Proxim Wireless give service providers and municipalities today's fastest path to new markets and revenue to capture new customers, serve city government and residents, and deliver secure and reliable access supporting the delivery of data, voice and video applications. Depending on their requirements, customers can choose indoor or outdoor mesh products.

Real-World Benefits of Proxim Mesh Networks
Reduces OpEx and CapEx through ease of deployment, use of alternative power sources and single management platform
Offers flexibility in service delivery using shared or dedicated bandwidth
Enables scalability to handle rural and urban subscriber densities on the same infrastructure
Delivers security, performance and reliability that meets or exceeds that of leased line networks
Wi-Fi Mesh Products
ORiNOCO® Wi-Fi Mesh Series
High Capacity Wi-Fi® Mesh Delivers Flexible, Scalable, and Reliable Voice and Data for Large Metropolitan and Enterprise Wi-Fi Deployments.
The dual-radio ORiNOCO® Wi-Fi Mesh Access Points deliver video, voice and data over Wi-Fi to the edge of a network over a flexible, auto-forming, self-healing, near line of sight mesh backbone. The dual-radio architecture separates the mesh backbone traffic from the edge access traffic, increasing capacity compared to single-radio mesh architectures. Seamless integration between ORiNOCO indoor and outdoor mesh access points enables existing indoor Wi-Fi networks to extend outdoors.
ORiNOCO® Public Safety Wi-Fi Mesh Series
High-Performance Mesh Access Points Deliver Scalability for Large Public Safety and Wi-Fi Deployments.
Supporting 4.9 GHz public safety and 2.4 GHz metropolitan Wi-Fi networks through dual 4.9/2.4 GHz radios, Proxim's tri-mode outdoor mesh access points deliver the versatility and feature robustness required by today's demanding emergency response and metro Wi-Fi® applications. Delivering unparalleled enterprise-scale security, management and Quality of Service (QoS) features, the ORiNOCO® Public Safety Wi-Fi Mesh Series of access points are preconfigured with tri-mode support for best in class performance and flexibility in large public safety deployments.
MeshMAX™ Product Series
Proxim's MeshMAX™ product line integrates three technologies, WiMAX, Wi-Fi® Mesh and Wi-Fi, in one small unit!