Nectar Spectrum Analysis PC Software

Nectar™ is a Windows® XP software application that scans and monitors a variety of wireless networks. Nectar™ utilizes the BumbleBee™ Receiver Module to continuously scan BumbleBee™ frequency bands 900 MHz, 2.4 GHz and 5 GHz, 2.4, 4.9 and 5 GHz or even BumbleBee Wi-MAX frequencies. Users must specify the desired RF frequency models when ordering. Current BumbleBee™ customers may use their receivers with the Pollenator™ PC interface with Nectar™ software. User selectable channel, preset and log settings ensure that Nectar™ software is able to distinguish your network's signal strength from other networks and sources of RF interference. Laptop or PC control via USB and ethernet creates customized, time-stamped log files for true 24/7 monitoring. Recorder spectrum analysis data may be replayed and reviewed at anytime on a PC. In addition, JPEG/BMP snapshot features allow users to instant capture waveforms at key moments for later analysis. Nectar™ software features up to 5 distinct waveform traces (1 live and 4 peak), screen averaging, video smoothing and packet/interference triggering.



Download Nectar data sheet

Download Nectar manual from the Technical support section
Full Spectrum Analysis using BumbleBee calibrated receiver technology
Channel Power Measurements (up to 4 user selectable channels)
Adjacent Channel Power Measurements
Presets for different frequency bands
Choose Between 3 Different Models: (900 MHz, 2.4 & 5 GHz) (2.4, 4.9 & 5 GHz) (BumbleBee Wi-MAX frequencies)
Interfaces to BumbleBee receiver via USB & Ethernet (using Pollenator™)
Recorded spectrum data may be replayed/reviewed at anytime
Power Trigger Modes (with measurement delay)
5 Waveform Traces (1 live & 4 peak traces)
Screen Averaging (up to 100 traces)
Video Smoothing (VBW : 50 kHz)
JPEG/BMP Snapshots of the screen
Windows® XP (Service Pack 2)
Pentium® III
500 MHz
256MB RAM
100MB free on Hard Drive
CD-ROM drive
USB 1.1 Port or 10/100 BASE T-Ethernet Port
SVGA or higher resolution (16-bit color)
902.40-928.00 MHz

2.4-2.5 MHz

5.150-5.900 MHz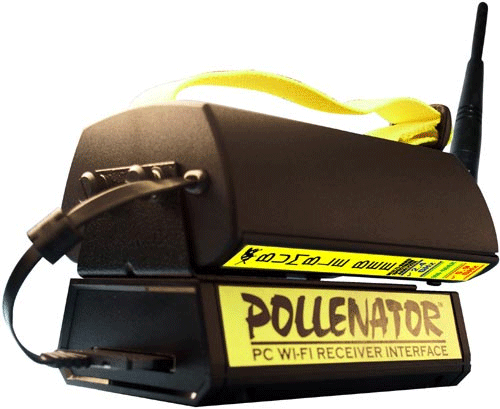 Use Berkeley's Pollenator PC interface with your existing BumbleBee receiver.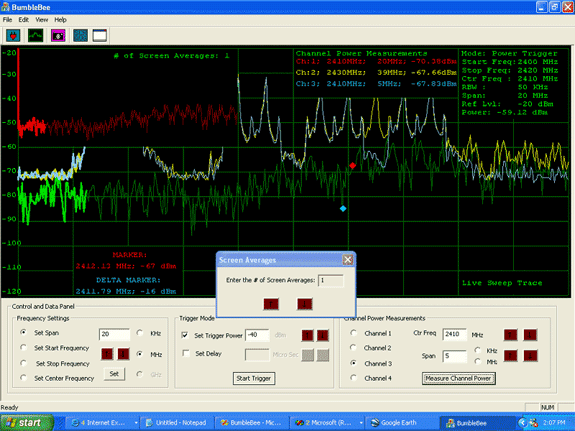 Nectar RF Spectrum Analysis software screen example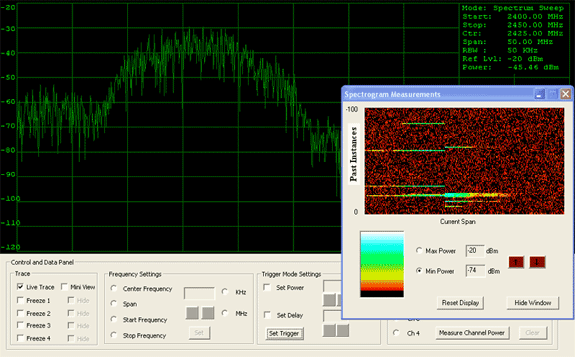 Nectar RF Spectrum Analysis software screen example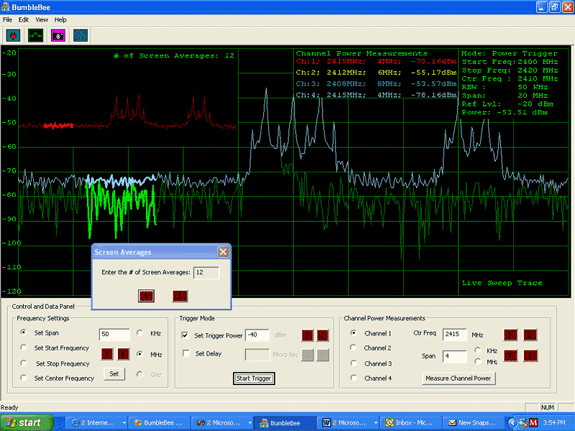 Nectar RF Spectrum Analysis software screen example

Does Nectar work with 2.4 GHz Wi-Fi networks?

Nectar is a spectrum analyzer for Wi-Fi frequencies but does not demodulate 802.11 packets.

Do I have to use my BumbleBee receiver with Nectar software?

No. Nectar software is available now for all BumblBee users but a Nectar receiver module will soon be released for people who have never used the BumbleBee.