Industry Highlights

WiMAX

White Papers

WiMAX Company List
WiMAX Trade Shows
WiMAX Books
WiMAX Buyer's Guide
WiMAX Forums
WiMAX Stocks
WiMAX Market Reports
WiMAX MultiBand Stimulus Transmitter
Tortoise MultiBand Stimulus Transmitter

Tortoise™ is a portable, rugged, high-power transmitter system composed of dual independent, transmitter modules giving the user freedom to transmit on any 2 unique frequency bands simultaneously without the need for expensive and bulky additional transmitters. Tortoise features two dynamically controlled Class A amplifiers for the cleanest signal output and VSWR protection. Tortoise features built-in thermal overheat protection circuity with quad cooling fans to ensure against overheating during operation. Remote adjustments include power level, channel or frequency assignment and transmit On/Off via USB, RS-232 and Ethernet from anywhere. An optional WiMAX modulator allows the Tortoise transmitter to simulate a fully functional 802.16e base station for the ultimate in deployment accuracy and precision.

Download Tortoise data sheet
Download Tortoise White Paper
Download Tortoise manual in the Technical Support section

Features
Choose your module combinations for Cellular, PCS, Paging, ETACS, iDEN, SMR, ISM, LMR, UMTS, GSM, WiMAX, Wi-Fi and more
Optional WiMAX modulator for realtime 802.16e base station simulation
Two independent transmitter module bays
Power amplifier with continuous adjustable power output ± 0.1dB over 32 dB range
Water resistant, rugged 18" x 15" x 6" ABS plastic case
Microprocessor-controlled with front panel soft-keys or remotely controlled with an internal m

odem for user programmable modulation schemes, power levels, channels, and frequencies.

640 x 240 LCD (1/2 VGA)
Calibration/Usage intergrated hours meter
VSWR antenna protection and internal forward and reverse measurement
Quad cooling fans with built-in thermal overheat protection for amplifier
Battery backed-up SRAM stores all user selectable parameters in the event of a power loss
Powered from 110-240 VAC 50-60 Hz
Weighs under 20 pounds
All parameters can be adjusted remotely via RS-232 or the internal modem or DTMF signaling tones
Specifications
GENERAL SPECIFICATIONS:
Display

640 X 240 LCD (1/2 VGA)

Stability

Stability better than 2.5 PPM for first year, + for 1 PPM for aging

Output Power

Continuous adjustable power output +0.5 dB over > 37 dB range

Output Power

Continuously adjustable via rotary knob or direct keypad entry in 0.5 dBm increments over 37 dB

Spurious Output

> 55 dBc

Harmonics Output

> 40 dBc

Antenna
2 Type N female outputs
Power

12-13.8 VDC 1 module @ 2.5 Amps (2 modules @ 5 Amps)

MECHANICAL:
Case Size
18" x 15" x 6"
Weight
18 lbs.
Frequencies
700 MHz
850-870 MHz
800-900 MHz
850-900 MHz
930-970 MHz
25 or 45 Watts
110/220 VAC or 24 VDC
1.805-1.880 GHz
1.85-2.10 GHz
2.10-2.17 GHz
2.3-2.36 GHz
2.4-2.49 GHz
2.5-2.7 GHz
3.4-3.7 GHz (10 watt only)
10 or 20 Watts
110/220 VAC or 12 VDC
Tuneable in frequency step sizes of 2.5 kHz, 5 kHz, 10 kHz, 15 kHz, 20 kHz, 25 kHz, 50 kHz, 200 kHz

***Custom frequencies available upon request***
Software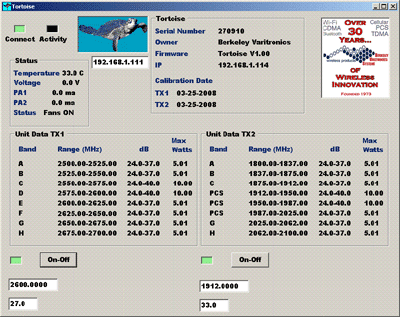 Options

Tortoise WiMAX Modulator
Back to Top
FAQs

Why won't my Tortoise turn on when I hook it up to a gas portable generator?

Certain model generators output an impure noise spike in the AC output. This anomaly has been traced to ignition noise riding on top of the sine waveform. So while this output is fine for most devices requiring AC power, the Tortoise will not turn on because it requires pure regulated AC power. Several model Honda generators have been tested and approved for this application, and also this problem can be easily remedied by simply using an inexpensive AC surge suppressor found in any convenience or hardware store.

Can Tortoise transmit from 2 modules at the same time?

No, but you can mix and match 2 completely different frequencies in one unit so that you do not have to leave the field to transmit another signal.